Summary: This guide covers how to scan the "Active" pages in a website or group. Scans can be done on demand or they can be scheduled.
Permissions
Only users with permission to "Manage Scans" are able to schedule or perform scans. If you do not have the "Accessibility" button in your main navigation, you have not been given access to manage scans. (For more about assigning user permissions and roles, review the guide How to manage users roles and permissions.)
Scanning vs. Crawling
Crawling a website is done on the website page. A crawl does not evaluate a page for accessibility, it only detects potential pages. For more information on crawling, review the guide How to add websites.
Scanning a website or group is when the WAVE engine that powers our scan evaluates each page and prepares the data for dashboard and document reporting.
Preparation
Before performing a scan, the website or group of websites must already be set. Only the web pages in a websites "Active" URI list will be included in a scan of that website. (The following guides provide instructions on preparing your websites and groups prior to performing a scan: How to add websites, How to manage groups, and Advanced management of URI lists )
Location of scan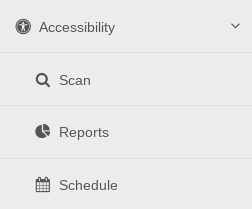 The scanning settings are located under "Accessibility" in the man menu. Scans can be done on demand and they can be scheduled.
Scanning on demand
Users can scan or rescan websites or groups on demand.
Steps to starting an on-demand scan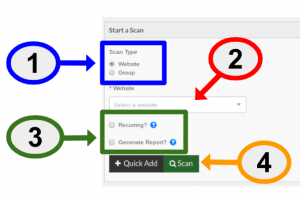 Select the Scan Type (Website, or Group)
From the drop-down menu choose the website or group you want scanned.
Select if you want to schedule reoccurring scans (more below on this), or if you want to generate a report (see Guide on Reports)
Select the Scan button to submit the scan.
Scheduling scans
Activating the Schedule button (a sub-category button under Accessibility) brings you to the "Scan Schedules" view. From here you can see and manage existing scans, as well as add new, scheduled scans.
Note: you can set up different scanning intervals for different websites or groups. For example, in the middle of heavy remediation work, you may choose to have one website scanned weekly. After you have completed this remediation work, you may choose to have it rescan those pages monthly or even quarterly (for websites that tend to be static).
Steps to scheduling a scan
On the Scan Schedules view, activate the "+ Add" button. This will take you to the "New Schedule" page.
Select the website or group you want to include in the scheduled scan.
Select your scanning interval (or period). You have three options (weekly, monthly, or quarterly)
Selecting your starting date.
Choose whether or not you want a report generated (more on reports here). Note: if you do not have a report generated, the system will not create a PDF report of the results.
Activate the "Save" button to submit the scan.
Monitoring scan progress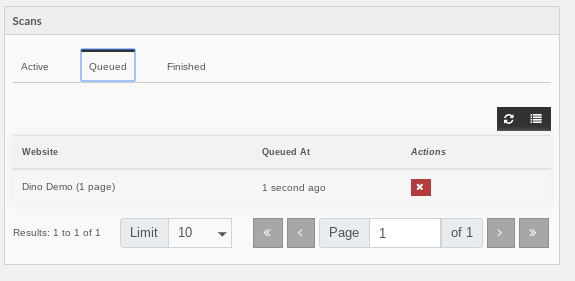 On the Scan Page (In the main menu, activate Accessibility, then activate the "Scan" button), you can view current scans (both queued and active.
From here, you can view a history of finished scans. These logs can be updated by using the refresh button just about the scanning lists or refreshing the whole page.