Summary:  This guide covers how to initiate a report for your latest accessibility scan results. Scan results can be conveyed by means of Dashboard Reporting or by emailing and/or downloading email, HTML, CSV, or PDF reports.
For information on different formats, types, and features of reports, please review Accessibility Reporting: Formats and Types.
Dashboard reporting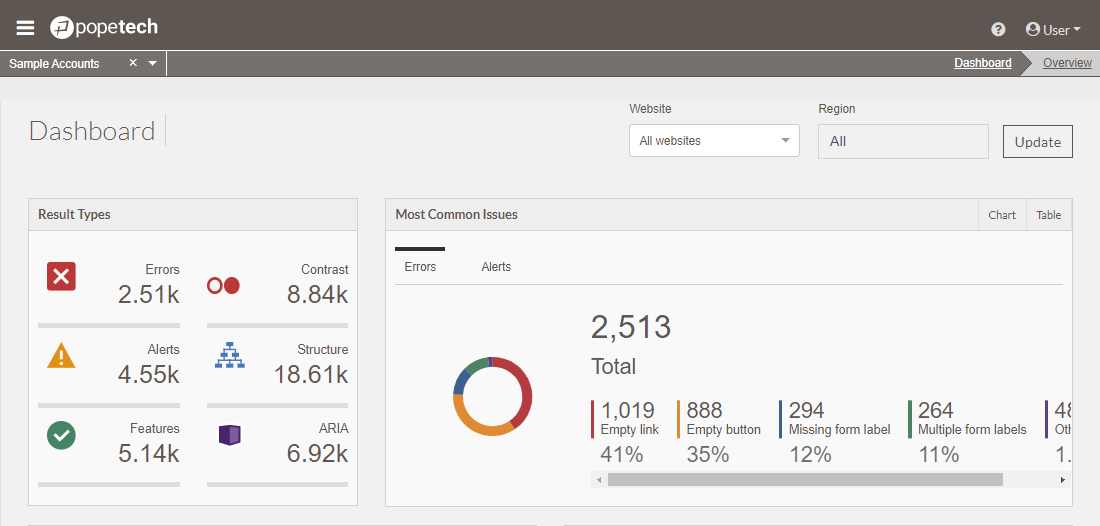 Our most powerful reporting tool is our Dashboard. It is designed and built with accessibility in mind and can be shared with users as a stand-alone reporting tool. Those who use dashboard reporting will have every piece of information that is included in exportable reports (pdf, etc), along with additional insights, information and resources that can assist you on your accessibility path.
Dashboard reporting can be configured to present information numerically or in graph form. This enables users to better understand their website portfolio's current accessibility state, along with historical context that can showcase improvement over time.
Drilling into results when using dashboard reporting immediately takes static information and makes it actionable. Having an overview of known accessibility issues (and potential issues) is important, but knowing the exact location and node of code of the detected issue may even be better.
For information regarding how to use the dashboard, please review the guide: How to Use the Dashboard.
Sharing dashboard access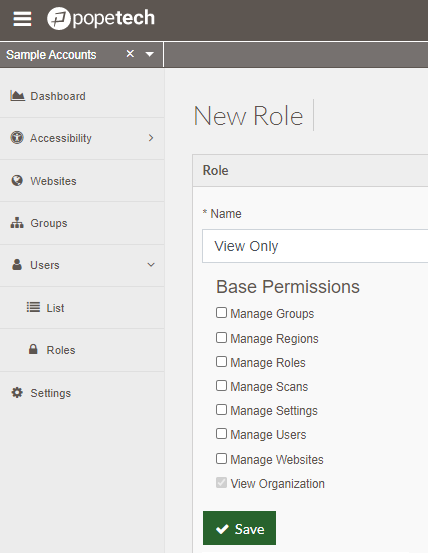 Users with "manage users" permissions can share access to the dashboard with other people.  A Role can be set up with View Organization permissions. Once the View Only role is created, users can be added with this role permission.
A user who has only the one permission granted to "View Organization," will not be able to make any changes withing the dashboard.
For more information on managing user's permissions see the guide How to manage Users, Roles and Permissions.
Exportable Reports (PDF, CSV, etc)
Exportable reporting options include email, HTML, CSV, and PDF reports. These reports can be created, shared, and retrieved from the Reports page, found in the Accessibility portion of the dashboard. Exportable reports contain general overviews and detailed overviews of the same information that is directly accessible from the dashboard.
By default, reports will be generated using the most recent scanning results for the website(s) or group selected.
For information on different formats, types, and features of reports, please review Accessibility Reporting: Formats and Types.
Creating an Exportable Report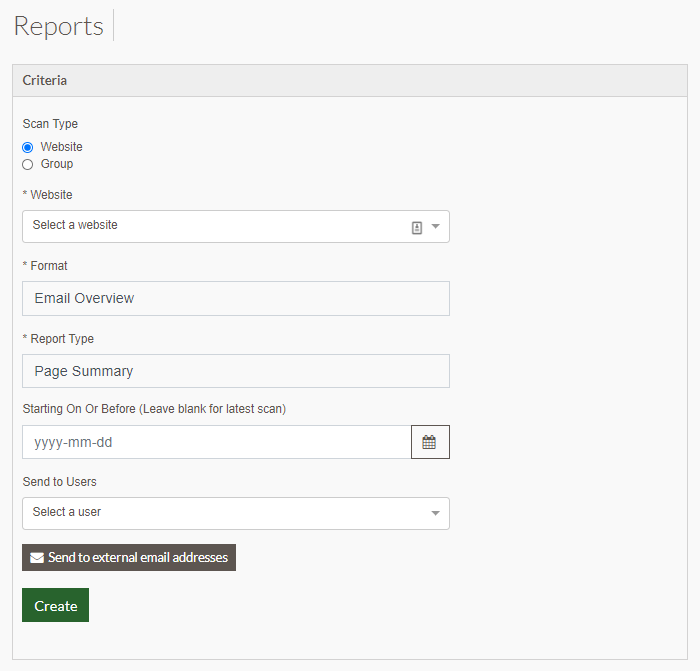 Access the Reports page by activating the Accessibility menu in the main menu and selecting Reports.
Select the scan type
Select the website or group you want to generate a report for. Options include a single website, multiple websites, or a pre-configured group of websites.
Select the report format. Options include:

Email Overview
HTML
CSV
PDF

Select the report type.
Select the region (if applicable).
(Optional) For the Starting On Or Before field – leave blank if you want the report to be created from the latest scan data. If you wish for a report of previous scans, select a date that is on or before the desired scan date.
(Optional) If wanted, you may send an email overview with a link to download the created report. This email can be sent to any combination of existing Pope Tech users or external email addresses
Activate the Create button to submit the report request.
When the report is compiled, it will be emailed out (if elected) and cached in the "Past Reports" widget located near the bottom of the Reports page. Past reports will be available for 30 days and can be downloaded directly from the dashboard or emailed to designated email addresses.
Recurring Reports
Along with creating reports from past scans, reports can be automatically generated with each completed scan (if selected). This can be done for one-time scans as well as recurring scheduled scans.
For more about how to run and schedule scans, you can review the guide How to scan a website or group.