Summary: This guide covers how to initiate a report of the latest scanning results. Scanning results can be conveyed by means of Dashboard Reporting and Digital Document (PDF) Reporting.
Dashboard reporting
Our most powerful reporting tool is our Dashboard. It is designed so that it can be shared with people as a reporting tool.
The power of dashboard reporting
There are a number of reasons why we believe our Dashboard is our best report tool:
It can be shared with others.
It presents the results in a number of different ways including: By results categories (Errors, Alerts, Contrast, Features, Structure, and ARIA); by most common Errors and Alerts; by website or group; by frequency or density; and reports on Error, Alerts, and Contrast overtime.
Uses both graphs and provides numeric summaries.
The content in the Dashboard can be used for just report but it is actionable (you drill down from overview data right down to the exact location of the identified issues or code).
It is designed with accessibility in mind. We believe reporting should be accessible and we strive to make our dashboard responsive, keyboard and screen reader navigable, and provide alternatives data tables to our data graphs.
Items 2-5 are covered in more detail in the guide How to use the Dashboard.
Sharing dashboard access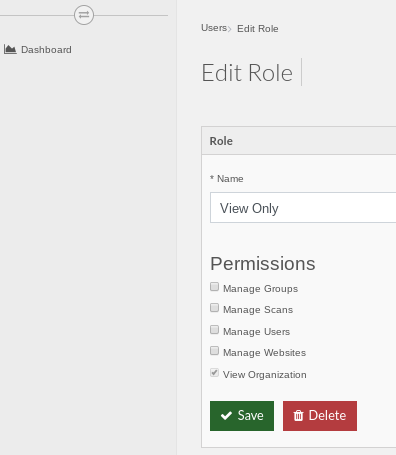 Users with "manage users" permissions can share access to the dashboard with other people. A Role can be set up with "View Organization" permissions. And then users can be added to this role. A user who has only the one permission granted to "View Organization," will only have access to the Dashboard (all the platform features and abilities will not be visible to them).
For more information on managing user's permissions see the guide How to manage Users, Roles and Permissions.
Digital Document (PDF) Reporting
Because users often want an easy to share a document, we also make available a PDF document of the results summaries and details.* The digital document reports are accessed by activating the "Accessibility" button in the main menu and then selecting the "Reports" Button.
The PDF reports include the same information that is directly accessible from the dashboard including: The number of Errors, Alerts, and Contrast Errors; the most common Errors; the Scan details results for websites, and reports on the 6 WAVE categories for each page, and links that take you directly to the WAVE tool. Think of the PDF report as a document that includes a sharable summary as well as an actionable detailed report of what is included in the Dashboard.
Any time a scan is completed the data for a report is compiled, but the report is not generated unless it is requested. A report can be generated on demand or can be requested during a scan (for more on scanning see the guide How to scan a website or group. Additionally, reports can be downloaded directly from the platform or they can be emailed to designated email addresses.
When a new report is requested, it will be generated using the most recent scanning results for the website or group selected.
Steps to Initiate a Digital Document (PDF) Report from the Reports Page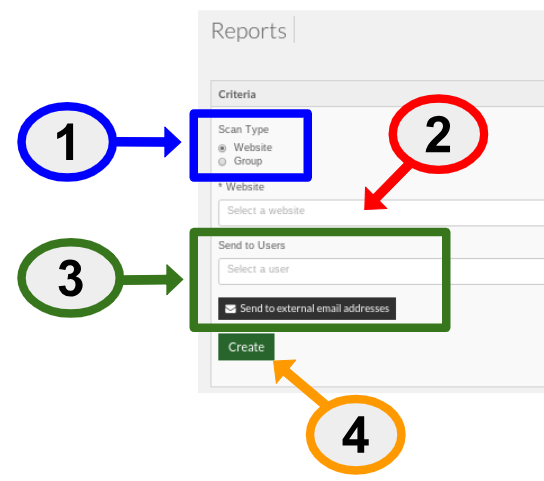 Select the scan type, whether it was a website or a group.
Select the website or group you want to generate a report for.
(Optional) select users in the account or add an email address for someone to receive an automatic emailed copy of the report.
Submit the report request.
When the report is compiled, it will be emailed out (if elected) and cached in the "Past Reports" widget located near the bottom of the Reports page.
[Note: we are currently looking into other ways besides the PDFs for users to be able to share digital reports of scanned data. It is likely, we that we will retain the PDF reports as they are very useful and requested by some users. In the meantime, if someone needs an accessible report, the same information is directly accessible in the Dashboard and Scan results (review the first of this guide on how to share view access to users. ]
Other places to initiate Digital Document reports
Reports can also be initiated when scans are run and they can be requested when a scan is scheduled. Requesting a report from a scan or scheduled scan also allows you to select email recipients that reports can be sent to when the scans are completed. For more about how to run and schedule scans, you can review the guide How to scan a website or group.