Users with Manage Settings permissions can edit Organization Settings and upload a logo for co-branding purposes. Logos uploaded for co-branding will be prominently displayed next to the Pope Tech logo on all accessibility reports as well as the accessibility dashboard.

Requirements:
Co-branding is an organization setting that must be enabled by Pope Tech Support. If you wish to enable co-branding within your account, please contact Support.
Only users with roles who have been given the Manage Settings permissions will be able to add or change co-branding logos. To request this permission, contact your account owner.
Maximum co-branding logo dimensions are 250 pixels wide by 60 pixels tall.
How to Upload Logos
To upload organization logos:
Navigate to your Organization Settings page from the main menu
Select the Co-branding tab
Select Choose File under the Light Logo section and select from your device a logo that will appear on light backgrounds (such as accessibility reports).
Select Choose File under the Dark Logo section and select from your device a logo that will appear on dark backgrounds (such as the dashboard).
Activate the Save button. Once saved, all future dashboard sessions and accessibility reports will showcase the co-branded logo.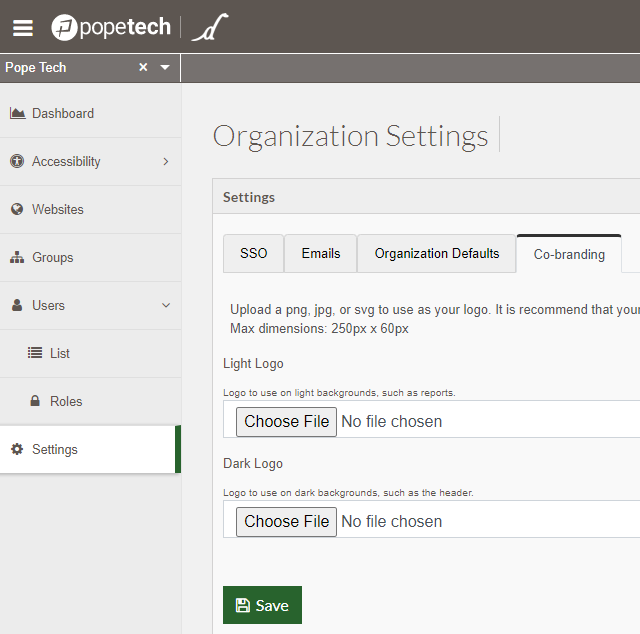 For additional organization settings, please review: Organization Settings.