Summary: Users can customize their account by modifying their organization settings. These settings include: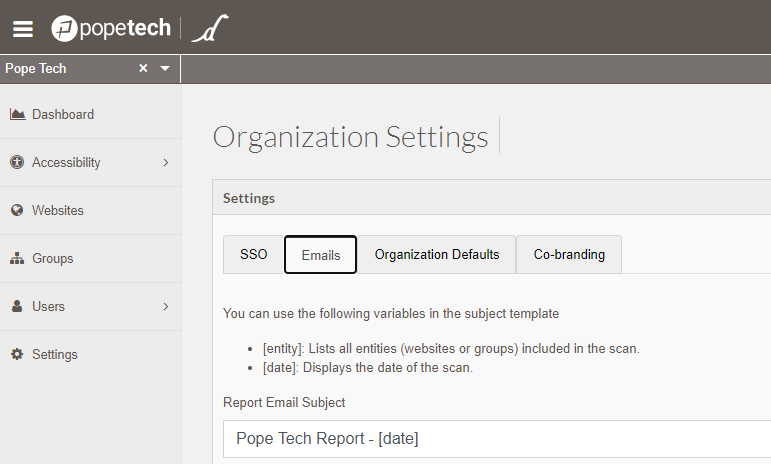 Requirements:
Some organization settings must be enabled by Pope Tech Support. If you wish to enable settings that are currently unavailable to your account owner, please contact Support.
Only users with roles who have been given the Manage Settings permissions will be able to access or modify Organization Settings. To request this permission, contact your account owner.
Emails
Emailed accessibility reports can have their default email subject and default email body customized to fit your organization needs. Instructions for email settings can be found on the Emails tab within the Organization Settings page.
Organization Defaults
The following default Crawler Options can be modified:
Max Pages
Max Depth
Include Subdomains
Filters
Crawl Rate Limit
The following default Scanner Options can be modified:
Viewport Width
Evaluation Delay
Scan Rate Limit
Once defaults have been changed, any new websites that are created will have the new default value. Setting new organization defaults will not override any existing individual website settings.
For more information on Scanner and Crawler settings, please review the following articles:
Co-branding
Co-branding can be enabled to prominently display your organization logo next to the Pope Tech logo on accessibility reports and on your accessibility dashboard.
For more information on crawler and scanner settings, please review: Co-Branding.
SSO (Single Sign-On)
SSO integragion can be enabled for any standard SAML SSO (such as Shibboleth). Once SAML SSO is turned on, newly created users can be setup as SSO-enabled users if desired. When SSO users enter in their email address on the login page they will be redirected to the organization's SSO login page.
To request resources for SSO setup and features, please contact Pope Tech Support.