Summary: Accessibility errors and alerts that have been manually reviewed and found to not be accessibility issues can be dismissed. Dismissed results will not show up in the dashboard or in accessibility reports. Dismissed results will likewise not show up in the latest and future scans until the scanned code (HTML) changes or the result is un-dismissed. Users can review all dismissed results as needed.
Dismiss Results Overview
Users can dismiss results that have been determined to not be accessibility issues. Errors, Alerts or Contrast Errors can be dismissed. The ability to dismiss an item is permission-based and requires a note to be made on the dismissal. By default, this permission is only turned on for owners of the account. The permission can be assigned to any role. For further information on managing permissions, please review the article: How to Manage Users, Roles, and Permissions.
Dismissing a result removes it from the latest scan and all future scans until the HTML is changed. Once the HTML is changed of that specific node the result will return.
The ability to dismiss a result is available both from drilling down from the dashboard to the Result Details or from a specific Scan details page.
Use Result Details View to Dismiss Results
In the dashboard, drill down from either the Result Types or the Most Common Issues into the Result Details. From there, you can drill down into a specific Error, Alert, or Contrast Error and then select the website you want to look at.

There is a column next to Code called Dismiss. This action allows you to view the code of the issue(s) for each page and either dismiss one by one or dismiss all of them.

You will be required to leave a comment for the reason for dismissing the issue.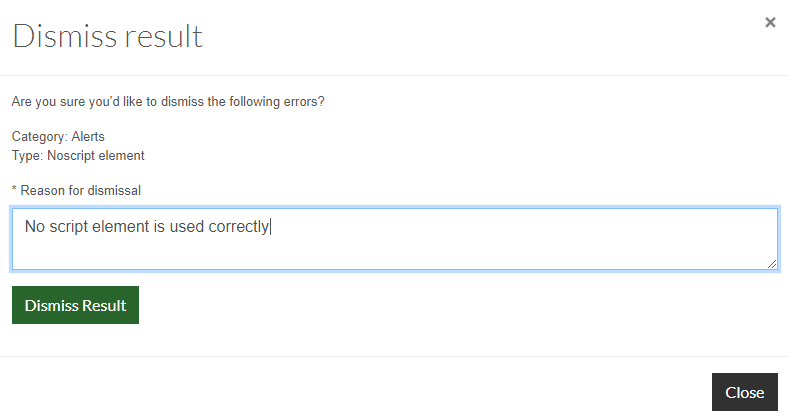 Reviewing Dismissed Results
All dismissed results are tracked and can be view in the Dismissed Results view. This view is accessed from the main navigation under the Accessibility section.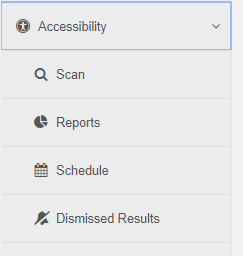 On the Dismissed Results view, you can filter to a specific Category, Type, Website and/or User.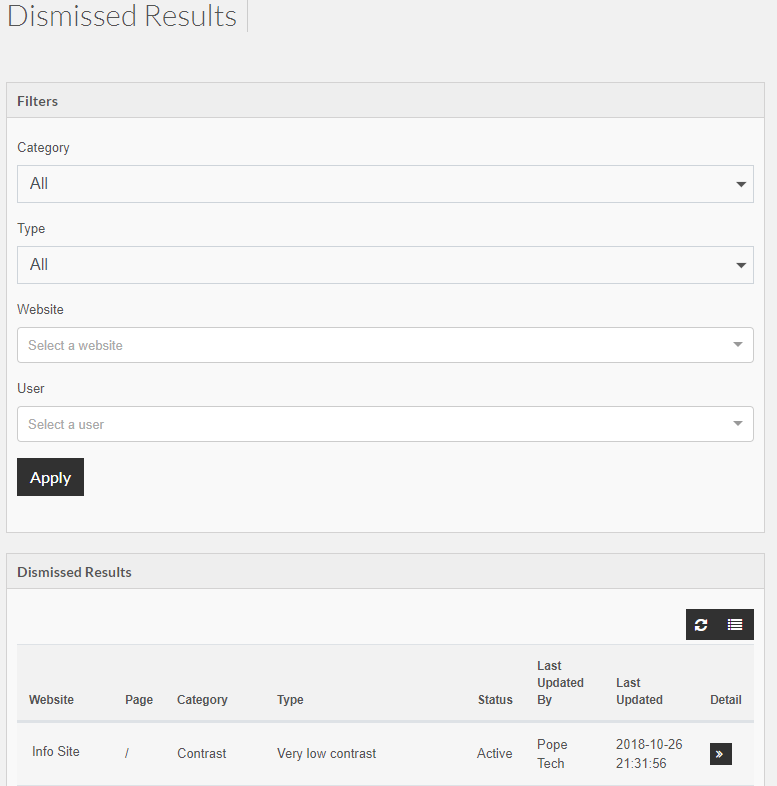 By navigating to a specific dismissed result Detail, you view a log of when and who dismissed the result along with the reason why it was dismissed.
Removing Dismissed Results (Un-Dismiss)
From the Dismiss Results Detail view, you can also update the status to active or delete the dismiss. Both options will add the previously-dismissed result back into reports, but with different behaviors.
If you wish to keep a record of the result dismiss, but want the dismiss to no longer apply then update the status to inactive. Once inactive, the result will once again be counted in the dashboard numbers, charts, and graphs and will be counted in future scans.
Deleting the dismiss will remove the dismiss along with the record of it (who dismissed, what dismissed, and any dismiss notes).