This update includes the following:
Additional table filtering throughout application
User setting for table columns that show
Throughout the Pope Tech application on all tables there is a toolbar before the table in the top right of the table. You can refresh the data in the table or pick which columns are visible.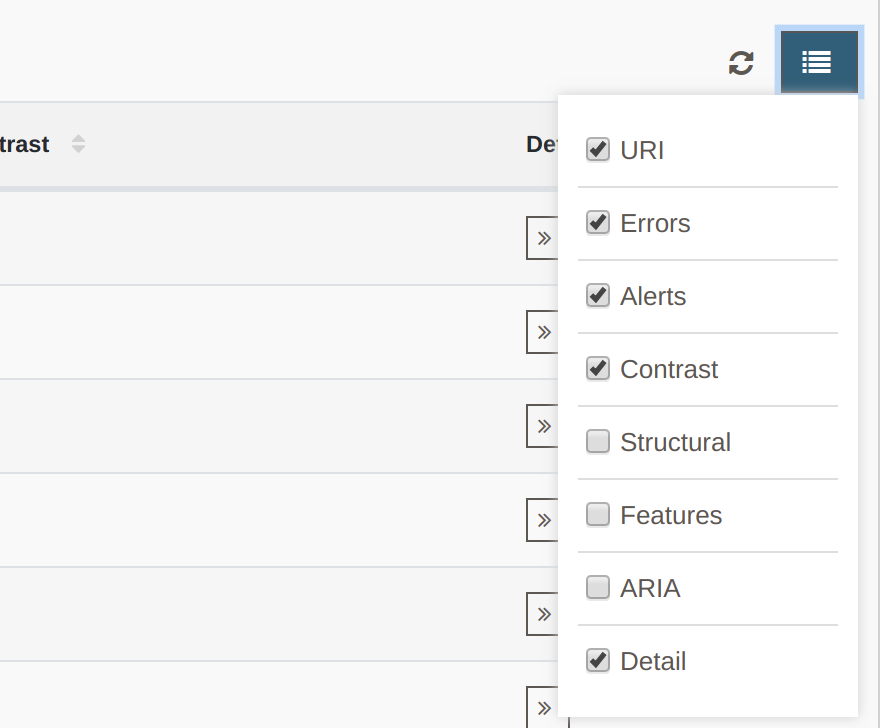 With this update if you change which columns are viewed it will save this as a user setting. In this example the Structure, Features and ARIA columns are turned off. When logged in as the same user on any computer it won't show those columns until it is changed again. This update gives users additional flexibility on what they view inside of Pope Tech.
Show Crawl Errors by default
When viewing a specific website's crawl widget the specific Error will show by default if there was an error. For example if the websites robots.txt file blocks bots such as the Pope Tech crawler it would show error as the status and Forbidden by robots.txt as the Error.

Forbidden by robots.txt is the most common error type. The Pope Tech crawler respects your robots.txt file. To get around this simply update the robots.txt file found on yourdomain.com/robots.txt. You can leave it to block other bots but add in a line to specifically allow the Pope Tech Crawler.
User-agent: Pope Tech CrawlBot (https://pope.tech)
Disallow:
This will allow the Pope Tech Crawler to crawl your website.
Search filter on User, Schedule, and Scan Detail views
The User List view now has a search field that searches both the Name and Email columns to filter the users.

The Scheduled Scans view now has a search field that searches the name of the website or group scheduled to be scanned. The Global group filter can still be used to filter by Group for any screen including the User and Scheduled Scans views.
New permission for managing roles
The new permission is called, "Manage Roles". All Roles which previously had the permission of, "Manage Users" have the Manage Roles permission by default. This new permission allows you to let the user add new users with existing roles but not additional roles.
Allow duplicates on website mass upload
When inside of the root group you can upload a csv list of websites with Mass Import button at the top of the Websites view. By default if the website already exists it will not import that website from the csv. With this update there is an option to specifically allow duplicates. This is useful if you have the same website with different whitelist filters or a mobile version etc. There is also now an example of what the csv columns are within the interface.