Pope Tech release notes for October and November 2021.
Want to know what has been updated recently at Pope Tech? You are in the right place. These release notes include all updates, including small updates and bug fixes.
Major updates include the following:
Any questions or feedback don't hesitate to contact us.
---
November 24, 2021
Updated website Mass (CSV) upload to use the org defaults for website settings if no settings are set inside of the CSV.
Fixed issue for SSO users using the Inspect functionality where they would be logged out.
---
November 17, 2021
New Result Documentation
With this update result documentation inside of the Pope Tech platform design was updated to be full screen and include Related Resources and real world examples and how to fix them.
All results contain What it means, Why it matters, How to fix it, The Algorithm.. In English, and WCAG 2 Success criteria sections.
All results might not have the real world examples and related resources yet but they will be added in the upcoming weeks.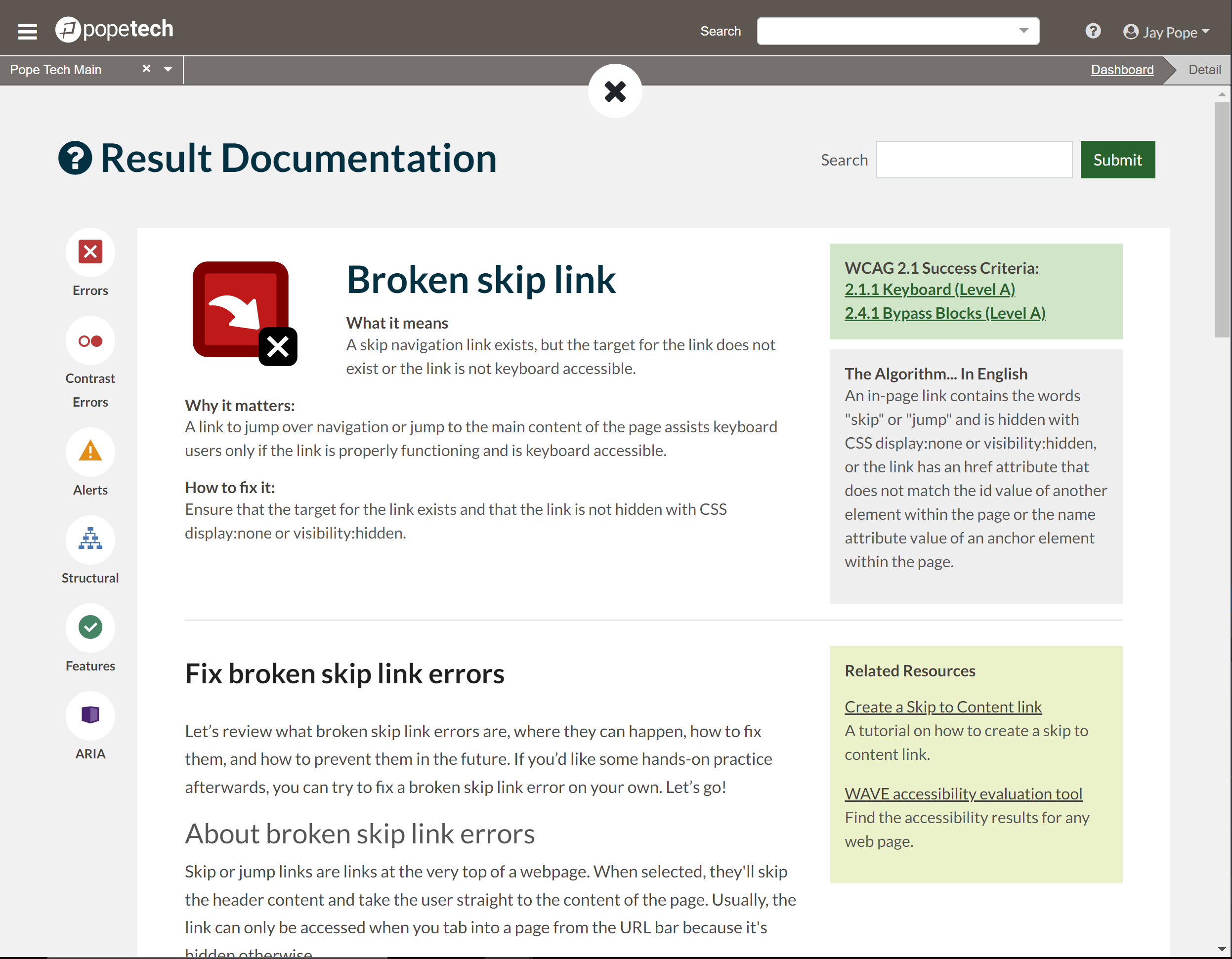 Additionally when inside of the Result Documentation you can now navigate to other results or search for other results.
Inside of Pope Tech the Result Documentation is accessed from either the Result Detail or Scan Detail views by activating the result icon button.
Public Result Documentation
We also made this result documentation public when not logged in or to non-users. This resource can be used by Pope Tech and WAVE users alike and can be accessed at app.pope.tech/result-documentation.
Other Updates
Scanning websites behind authentication was updated for websites using the API token authentication method. Previously the API token needed to be specified but with this update Pope Tech will save all local storage values. This simplifies the setup but also adds support for websites that require multiple local storage values.
---
November 04, 2021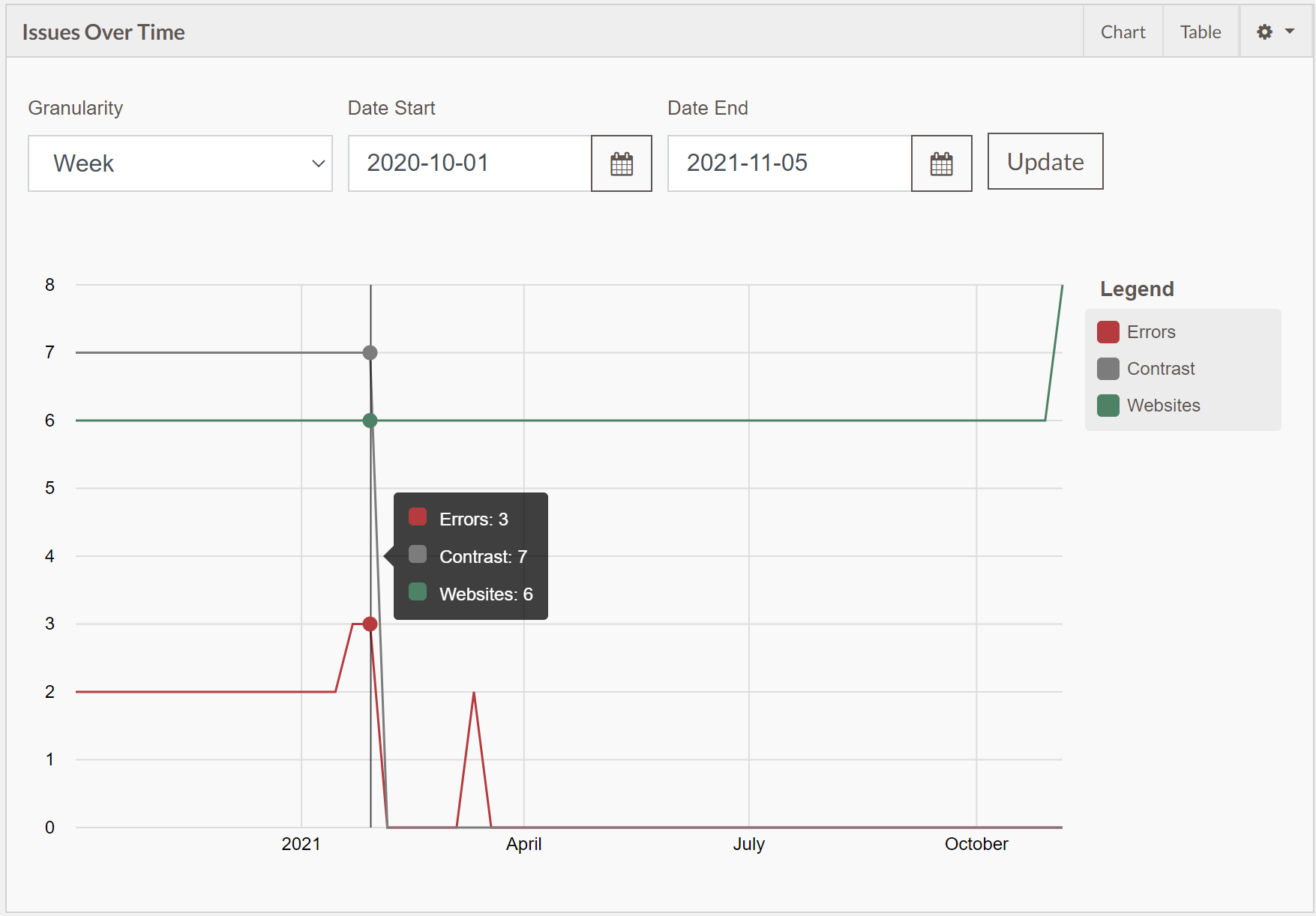 Added websites over time option on Issues over time dashboard widget. This is a widget setting that is off by default but can be turned on per user.
Created process for automatically updating API tokens.
Added filters to the report view for type and format.
Updated WAVE engine with fix for false positive in some cases where a link has a separate element with an aria label.
---
October 30, 2021
This was a large update to the Pope Tech platform including Jira and Asana integrations and the launch of the Pope Tech Help Center.
Create Task Integrations
The create task integrations allow you to create tasks directly from Pope Tech results and send them to Jira or Asana. Tasks can be created from the Result Details, Scan Details or Inspect views. In the near future we will also add an email option to send the task to any email address.
This is an organization setting and needs to be turned on by a user with the "Manage Settings" permission.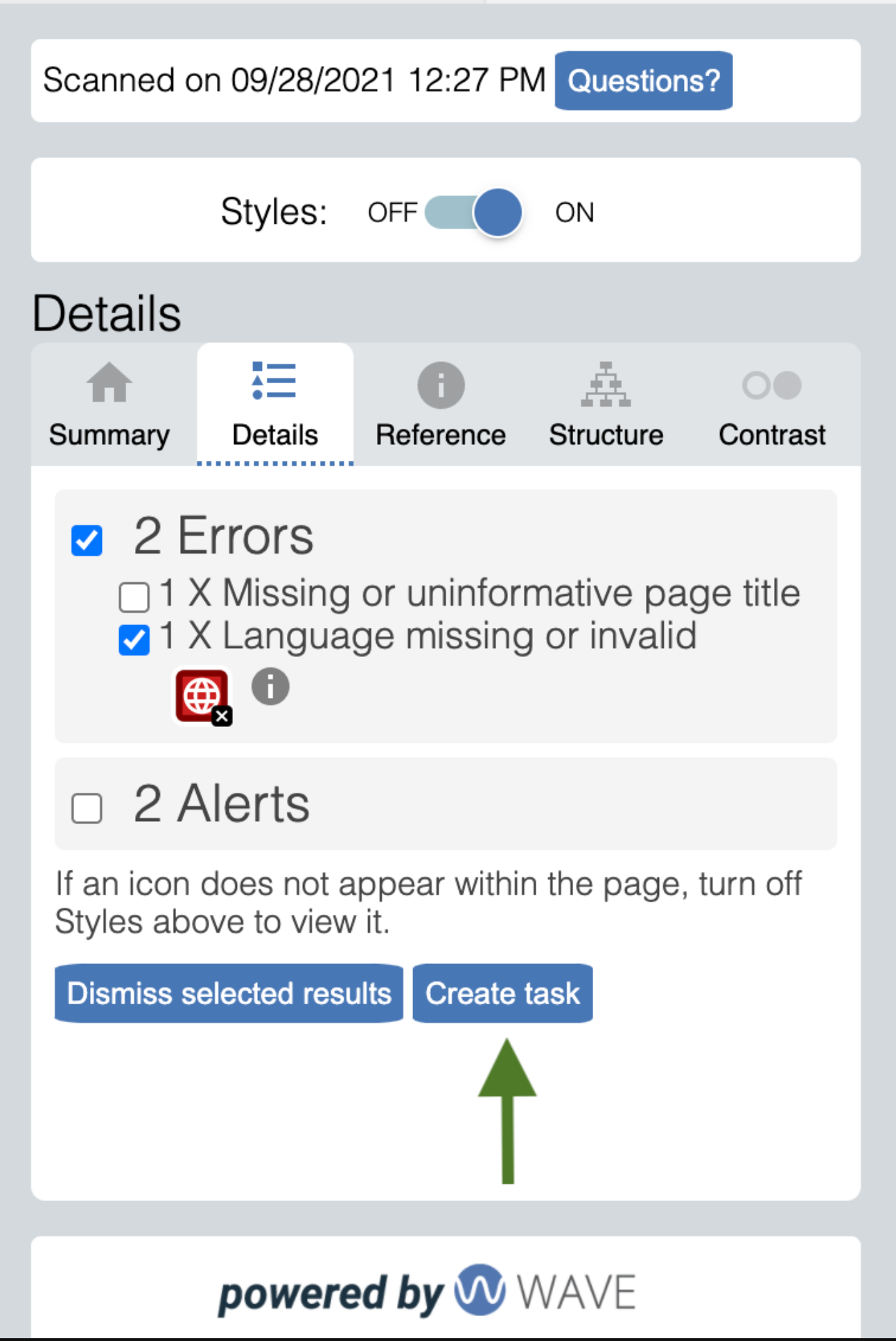 Once the create task button is activated a form will populate with the details of the accessibility result. This can be updated with any text before it is submitted to Asana or Jira. In addition the result documentation can be optionally included in the task.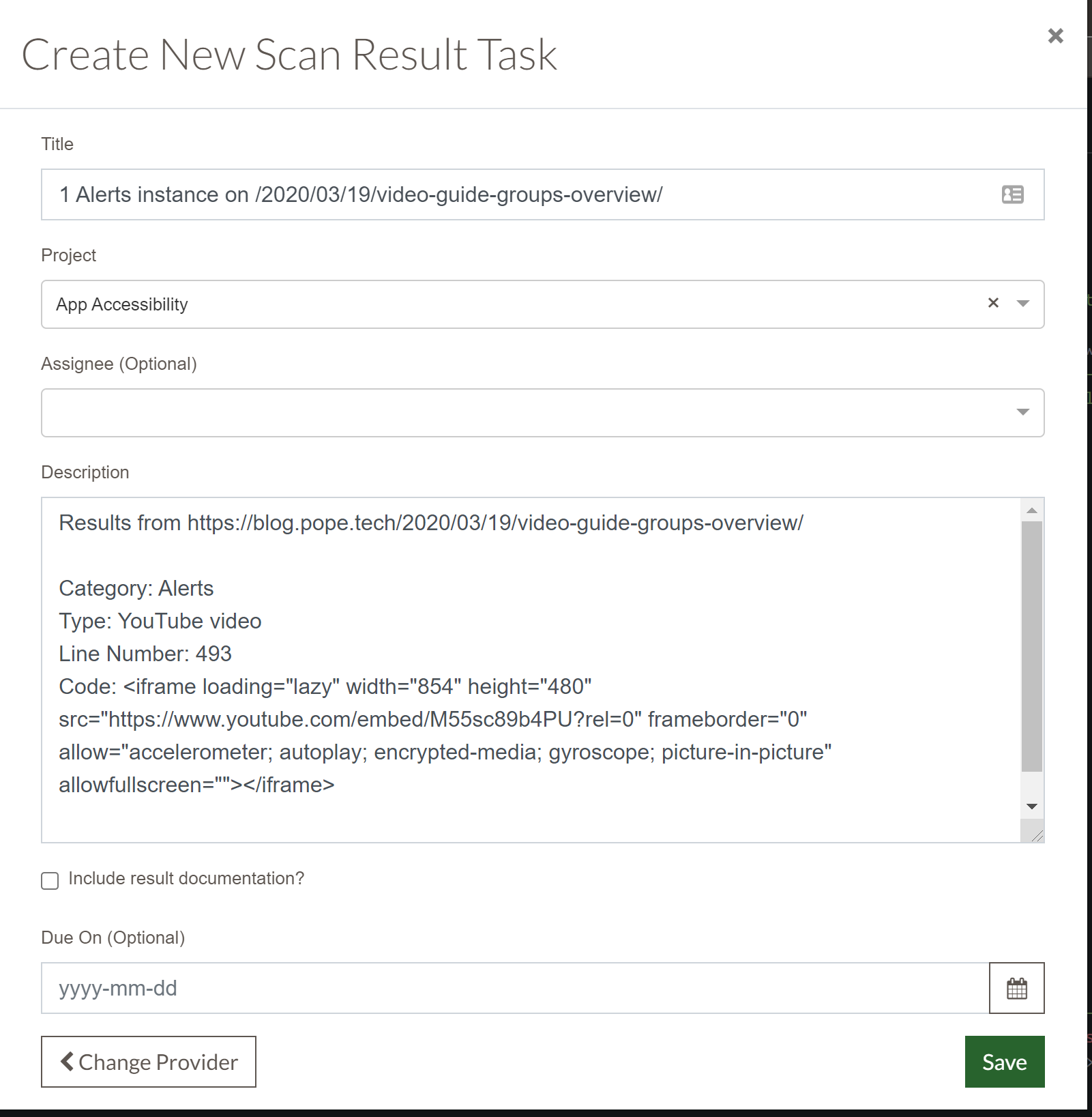 To learn more about how this works you can review our article on Creating tasks in Jira and Asana.
Pope Tech Help Center Launch
The Help Center is an integrated Knowledge Base. All of our documentation can now be found directly inside of the Platform, this documentation is still accessible for non-logged in users as well. The Help Center can be activated from any view inside of Pope Tech using the "?" button in the header by your name.

The goal of the help center is to make it easier to find answers to questions while using Pope Tech. Suggested articles change based on the page you are on when activating the Help Center. With this update we have improved several documentation articles and will be updating the rest in the next few weeks.
If you have questions you can still create a ticket at the top of the Help Center using the green Create Ticket button.
The public Help Center can be viewed at app.pope.tech/help-center.
Added ability to manage org features
Users with the "Manage Settings" permission can now turn on or off org features inside of the interface instead of contacting support.
To do this go to Settings in the main navigation and active the Features tab.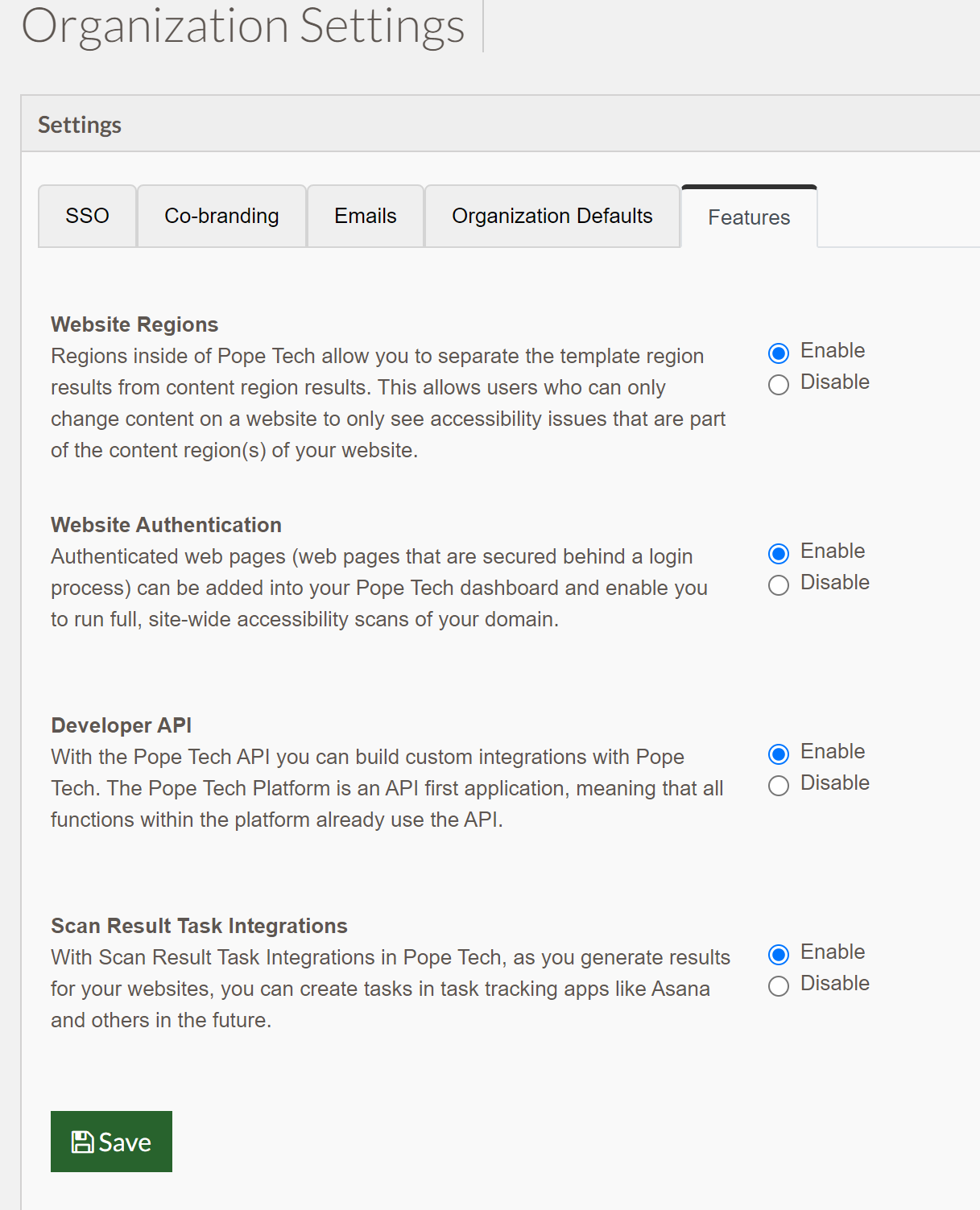 Other Updates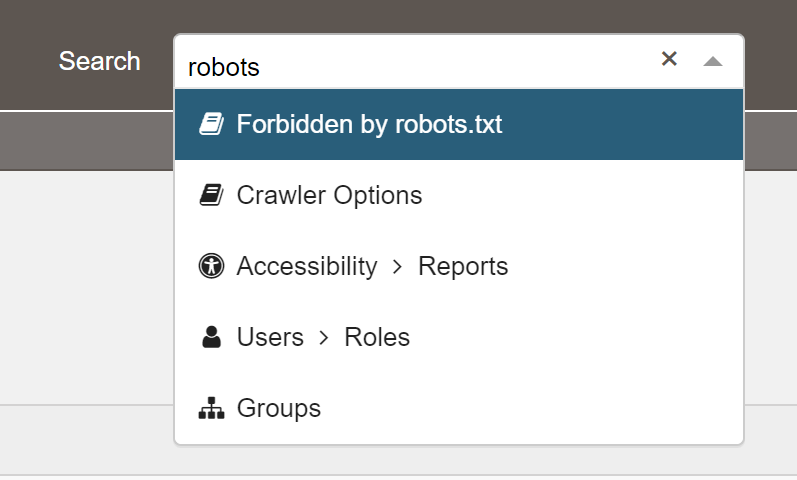 Improved the global search functionality for more reliable results, added Help Center articles to global search.
Updated the Not Scanned view inside of the Scan Details to link the pages not scanned directly to the page for ease of use in debugging.
Updated Ignore Redirect website setting to save in the database. Previously it had to be checked each time a url was updated.
Fixed issue where on deletion of dismissed results the user was redirected to the dashboard.
Fixed accessibility issue where the cancel crawl button didn't have a text label.
Improved the color contrast of table sort indicators.
Added an "Active" filter to the Dismissed Results view for easily viewing active vs. inactive dismissed results.
Added new columns to the Websites listing table. The new columns are; Crawls (number of times crawled), last date crawled, last date scanned. These columns are hidden by default and need to be turned on with the table settings. They help in easily identifying websites that haven't been scanned/crawled recently.
Added prompt on all cancel/delete actions. Previously critical delete options had a double prompt but some less critical ones didn't that could result in wasted time if accidently deleted or canceled.
Fixed issue where some user table settings weren't saving
Cleaned up header dropdowns when code view, Inspect and Help Center are open. Previously some dropdowns went behind the open drawer.
Fixed bug where the inspect button was available from the result details on scans older than 30 days.
Improved error messaging on the Scan view when a website won't scan because it has no pages.
Fixed issue where the result documentation was cut off at some screen size and zoom settings.
Updated the Website CSV Mass import to add new website options added during the last year.
Update to WAVE core improving the testing logic for a handful of specific scenarios.
Thanks for all of the feedback! All of our updates and prioritization are based on customer feedback.
---
October 7, 2021
Instructor Accessibility Guide (Canvas LMS) – Fixed bug where previously when converting a possible list with links into a semantic list it removed the links. With this update the links and styling are maintained with conversion
---
For other recent update view June – Sep 2021 Release Notes.