This update to the Pope Tech platform includes the following:
This update also included performance improvements and various big fixes
Launch of Accessibility Help Desk
We are excited to announce the launch of our Accessibility Help Desk. The Accessibility Help Desk is designed to be a resource to help empower you in making your website more accessible. Users can ask questions on how to fix specific errors and alerts reported by Pope Tech and receive Tier 1 human Accessibility Guidance.
In our beta group, users also asked for general recommendations on next steps of improving their accessibility when they fixed all of their errors or alerts. Sometimes a little feedback from someone who has done it before can go a long way.
The Accessibility Help Desk will only be provided for key user(s) of accounts that pay annually and will be included at no additional charge.
In the next week this will be rolling out to all of our annual plans. Once activated for your account you will have an additional menu item in the menu under your name called, "Accessibility Help Desk".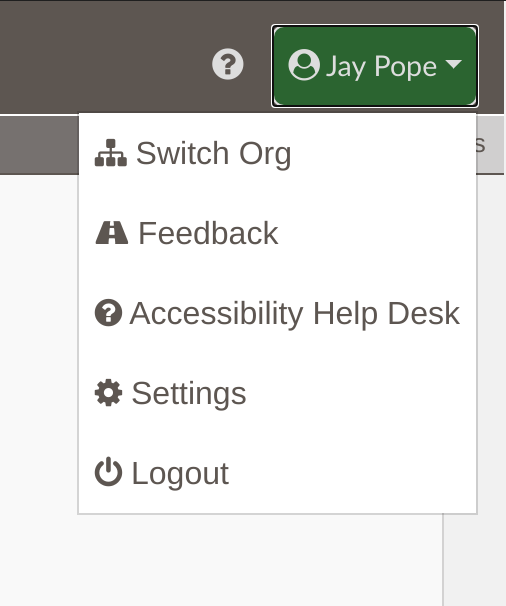 The form will let you ask your accessibility question and will indicate to our Accessibility Help Desk what page you were working on when you asked for help. We are excited to work with you even more to improve your accessibility.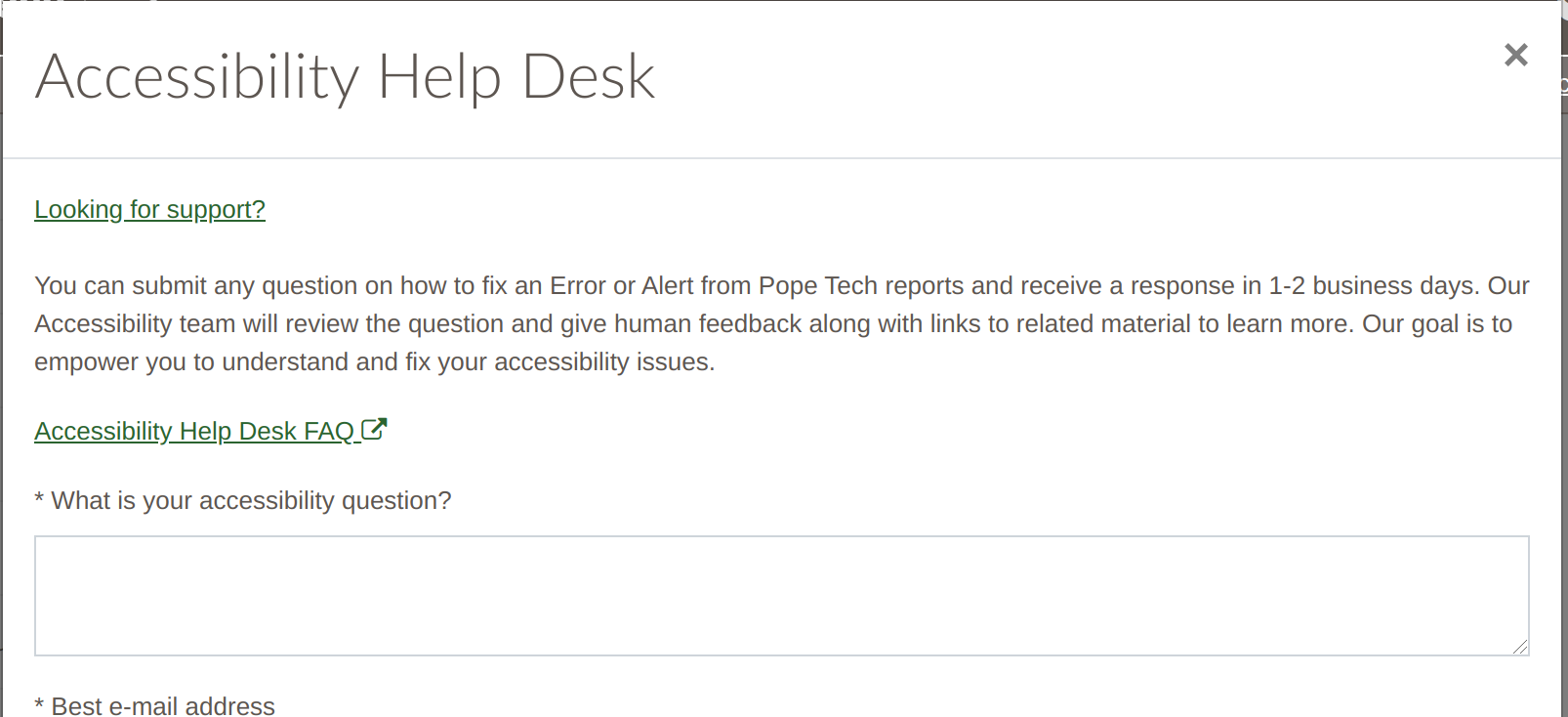 For more information refer to the Accessibility Help Desk FAQs.
New customizable Result Detail and Result Summary report types
In addition to the existing summary reports or page details reports you can now run result details reports on the specific errors and results.
This can be configured to include all Pope Tech results or specific results.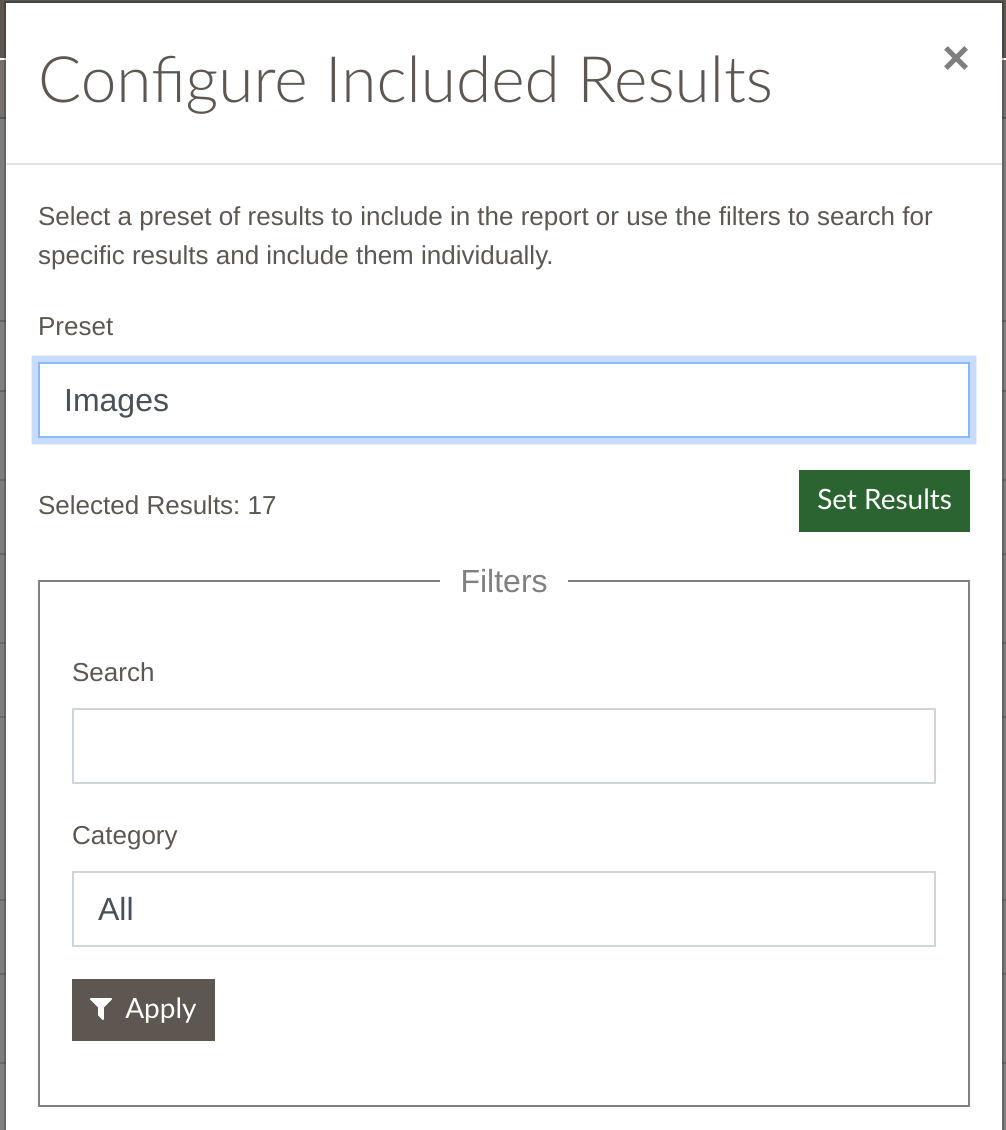 For example you can now run a report to view all image results on a website. This report would then include all image errors, alerts and features to review the alternative text of all of your images.
Each result details report includes a report overview of just the results configured in the report.

Each report also includes a summary of what results are included.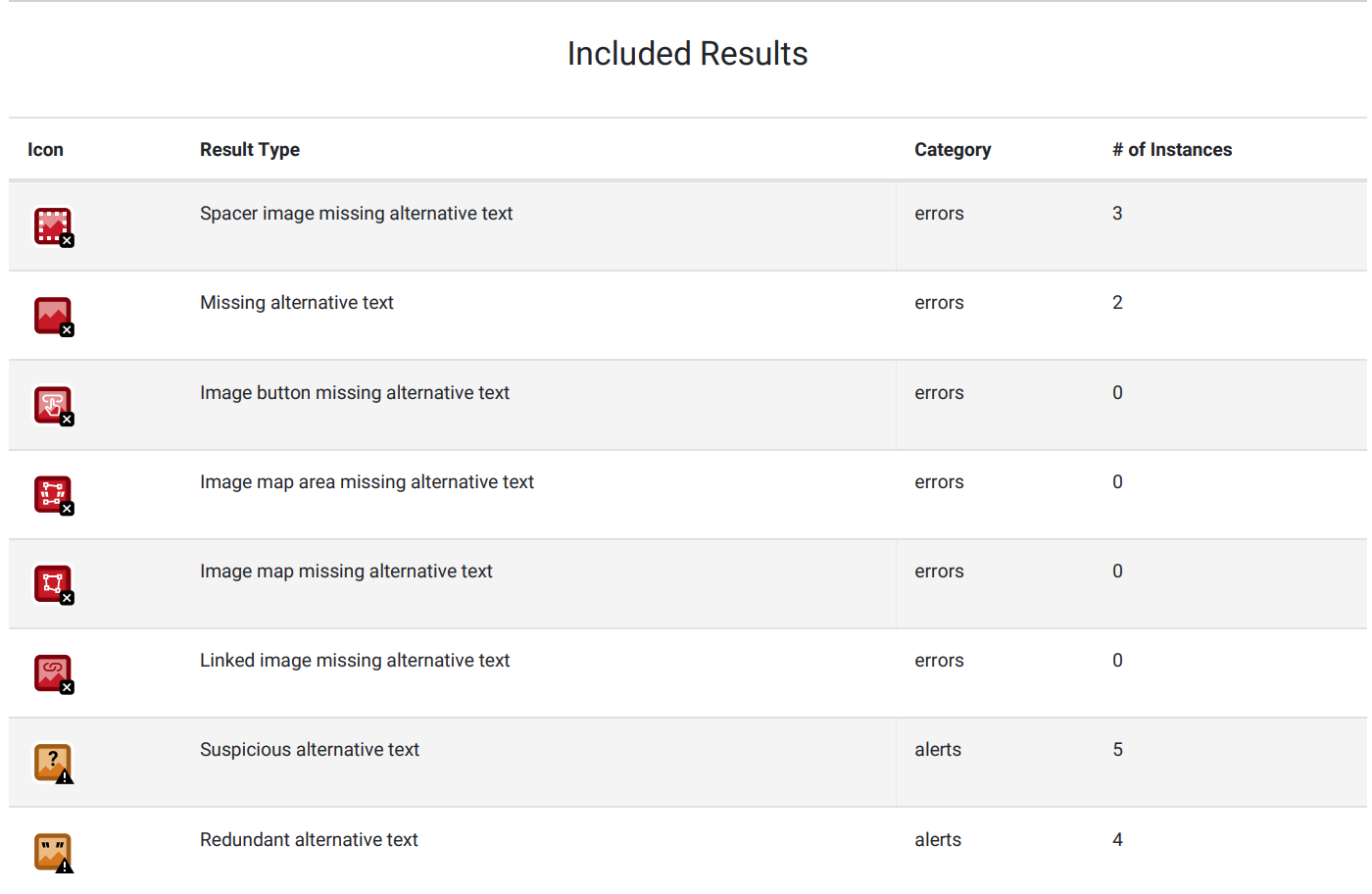 Each result has a documentation about the result and how to fix it for PDF and HTML report types.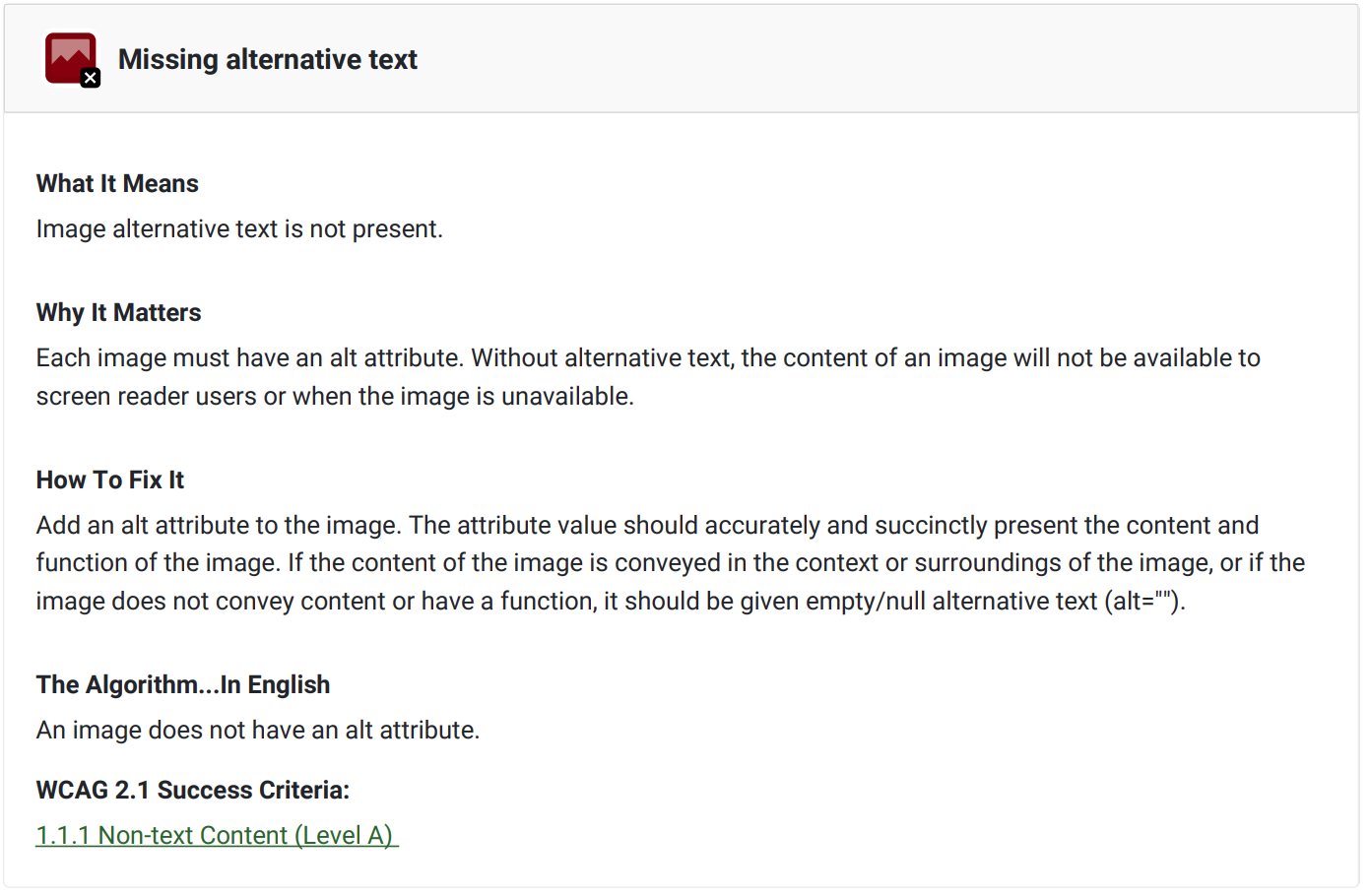 In addition each individual result instance has a row indicating which page it is found on, relevant text (such as alternative text or heading text) and the html of the element.

The result details report when run as a PDF or HTML type will limit the rows of results to 1,000 results. The CSV report type can be run for a report with all rows of result instances. This report option can be downloaded, emailed and/or scheduled like the existing report options.
The HTML displayed in the result details report is stored for 30 days on the Pope Tech servers. If a report is run for a scan more than 30 days old it will still have all of the accessibility information but not the html. For example a heading report would have all the results from the accessibility including the heading text but not the html itself.
Note: Past scans before this update won't show the html in the result details report, this will only show for new scans going forward within the last 30 days. Rescan the website(s) to view the HTML included in the report.
You can review all of the exportable report options in the report options guide.
Updated emails for all reports
We improved the emails of all reports. In addition to styling updates email reports also have the following improvements/options:
Errors per page metric
change since last scan
support for cobranding
2 most common errors and how many occurrences across how many pages
shareable download link active for 30 days in place of attaching potentially large files to an email
links to the Pope Tech platform when sent to users for viewing the dashboard, most common errors, and viewing scheduled scans.
The example email below for My University we quickly summarize that we have 2.8 errors per page (errors + contrast errors/pages) and 4 additional errors were found since the last scan with 156 alerts being fixed.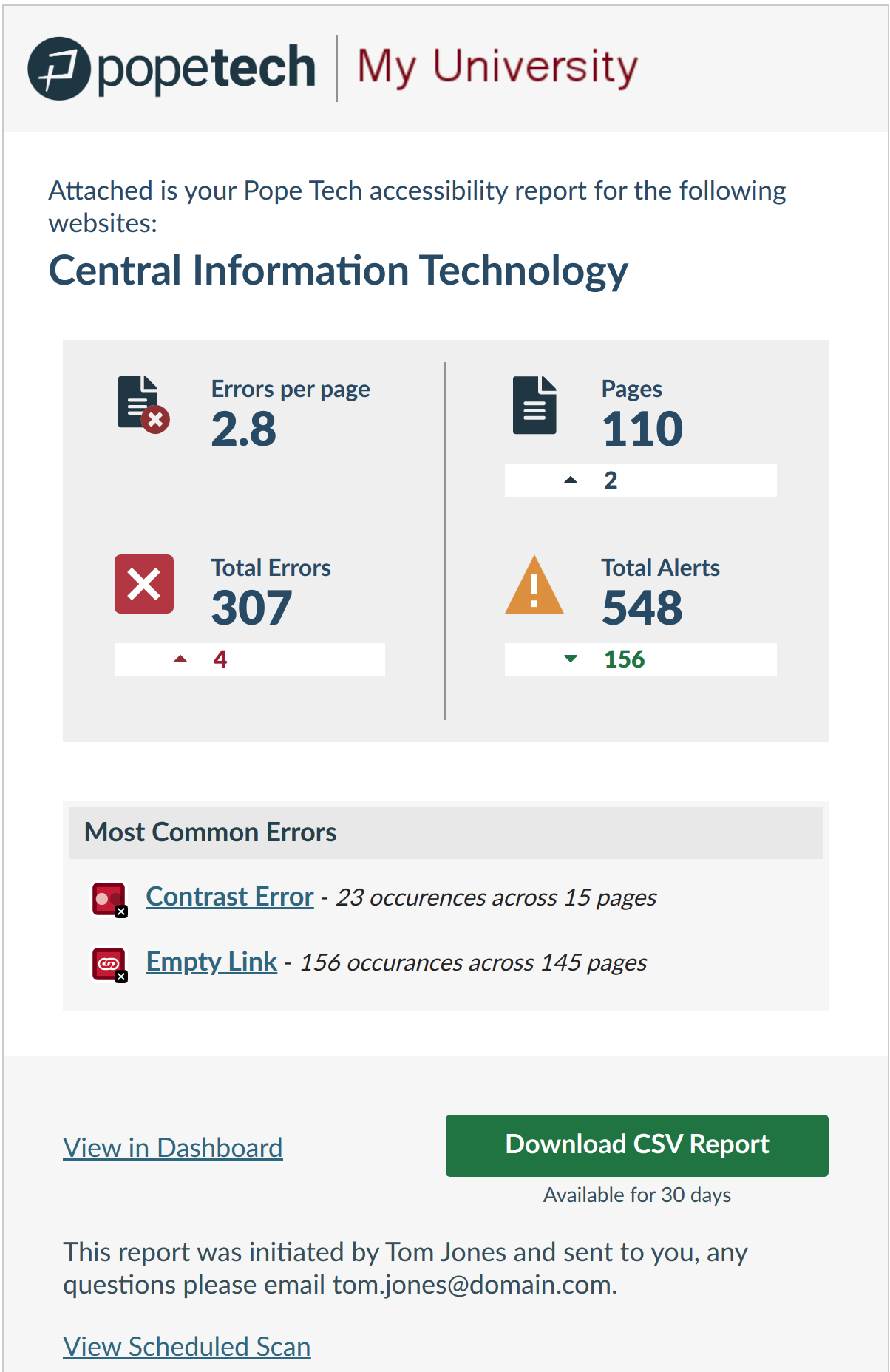 New Email Overview Report format
The new default report option is an email overview similar to the example above without a download report option. We find many users want an email cadence of their accessibility typically on a monthly basis. With this option they can drill into the results right in the platform rather than downloading a pdf.

Reports can still be run as a PDF, HTML, or CSV format in addition to the new Email Overview report.
Easily rerun past reports
Report download files (HTML, CSV, PDF) are stored on the Pope Tech servers for 30 days. Reports that were run over 30 days ago can be rerun with the exact same parameters as the original report right from the past reports table.

UI improvements to scans widget
The Scans widget to view queued, active or finished scans has been updated to be more user friendly. The different tabs of Active, Queued and Finished were combined with a filter added for status.
A duration and progress column were added. The progress column indicates the status of the scan and how many pages have been processed.

If pages don't scan they are indicated below the progress bar. If more than 10% of pages don't scan the progress bar turns yellow. This typically indicates an issue with the website being scanned or how it is set up.

Feedback
Thanks for all of your feedback! this update includes many updates that came directly from user feedback. We love feedback and encourage you to use the feedback form inside of the Pope Tech platform to let us know how we can better help you.