Pope Tech release notes for December 2022 and January 2023.
Want to know what has been updated recently at Pope Tech? You are in the right place. These release notes include all updates, including small updates and bug fixes.
Any questions or feedback don't hesitate to contact us.
---
January 3rd, 2023
Added January Monthly focus to Dashboard for Professional Plans.
December 16th, 2022
This update included the ability to add users to multiple groups, this was prioritized from feedback from our users. We also launched our Professional Plans which include a training program along with the automated scanning.
Add a user to multiple non-nested groups
Prior to this updated the custom group structure for an account required that a user was assigned to one group and would have access to any nested children group underneath the assigned group. With this update a user can be assigned to any number of groups.
The role of the user is the same for all groups. Users can switch between groups using the group filter found in the header of the platform.
To assign a user to multiple groups, simply add a 2nd group after assigning the first when creating or editing a user.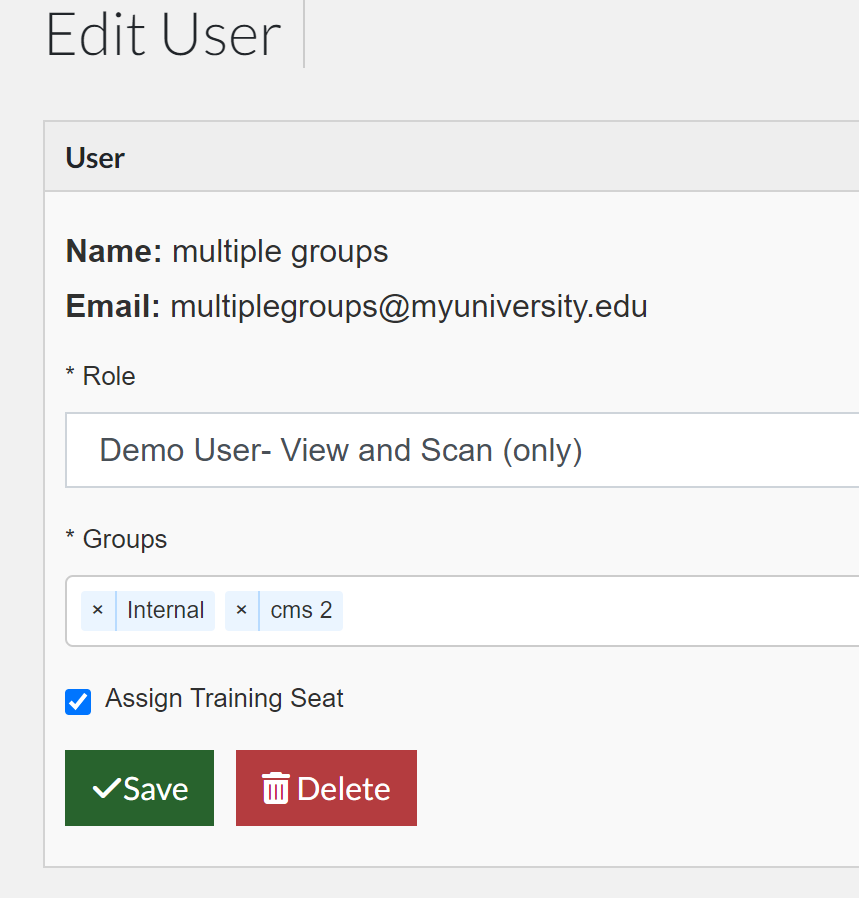 Launched Professional Plans
With the new Professional Plans each account gets seats to a built in training program that includes quarterly training webinars and open office hours, an all-day WebAIM online Training, and access to our Accessibility Help Desk. In addition Professional plans have two new widgets on the dashboard for tracking Manual testing.
Manual Testing Tracking
For Professional Plans there is a new widget called, "Manual Scorecard" that tracks when each website was last manually tested. You also have the ability to schedule how often they should be manually tested.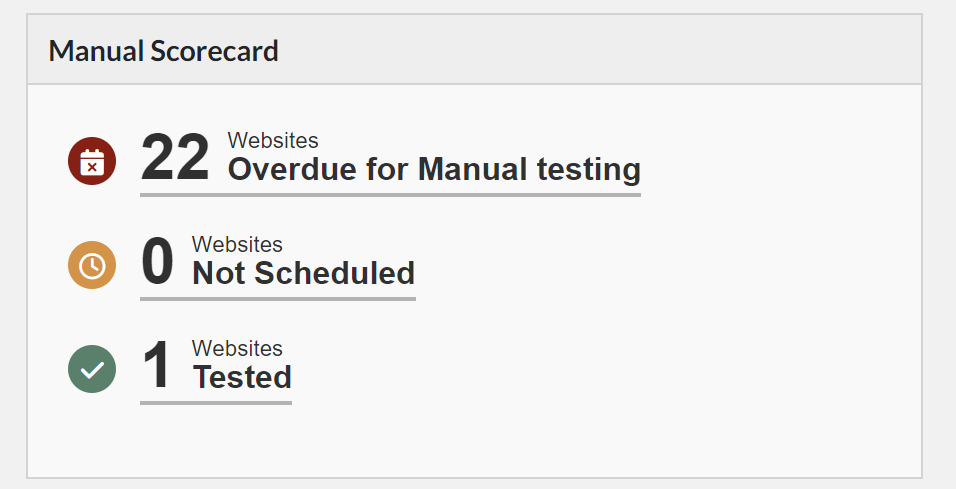 Learn more how to track manual testing in the Manual Testing tracking article in the Help Center.
Monthly Focus Widget
Each month Pope Tech has a monthly focus topic. This can be followed by anyone. For Professional Plans we integrated the monthly focus into the dashboard along with related Pope Tech results.

Other Updates
Fixed report links for users that went to invalid pages for some orgs.
Improved user creation validation.
Increased text contrast throughout platform.
Updated icons throughout to be consistent.
Added Zoom support option from the Help Center. A zoom call can be scheduled.
Added ability to assign Accessibility Help Desk or Training Seats.
Added Permission for who can assign Accessibility Help Desk or Training Seats.
Fixed issue where results with brackets in the html weren't staying dismissed.
Coming Soon
Based on user feedback will be updating the "Result Types widget in the dashboard to be the "Automated Scorecard" and it will include Errors per page, Alerts per page as well as % of pages with no Errors metrics. You will have the ability to pick which metrics are shown for you in the widget.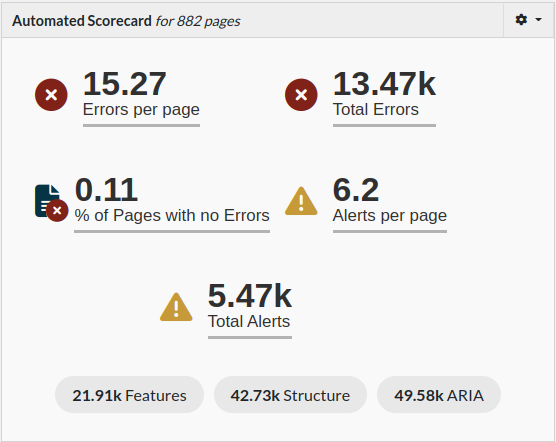 Canvas Dashboards Updates
This update included polishing from our Alpha testers feedback along with the ability to separate Documents and Videos results from other results in the dashboard.
Separate Document and Video Results Setting

This is a setting that can be turned on from the Admin Pope Tech LTI Settings inside of Canvas. Once turned on any Documents or Video results won't show as Alerts but will show as their own category inside of the different dashboards.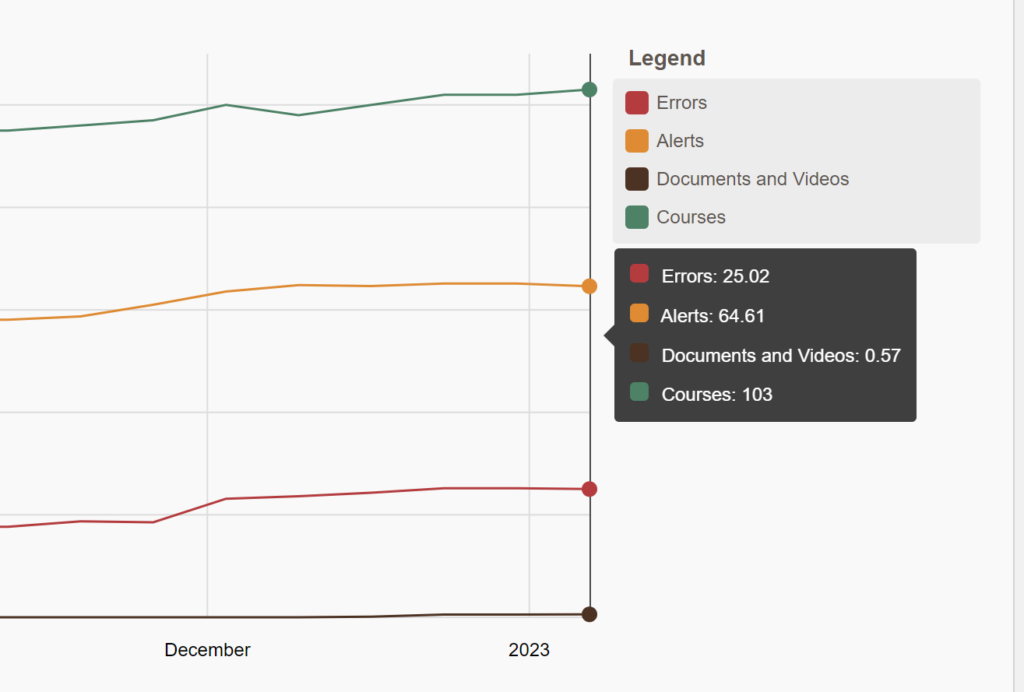 Courses scanned before December 2022 will need to be rescanned for this to work. Courses scanned before December 2022 will still show the results as Alerts.
Other Canvas updates Updates
Fixed issue with undefined pagination.
Fixed issue where you couldn't drill into "Link to Canvas Asset" results.
Changed wording for opening Accessibility Guide from dashboard to always say "Edit".
Changed defaults for over time graph.
Improved performance for JS column loading time in course or page listing.
Fixed Accessibility issue with content block link not being keyboard accessible.
---
For past recent updates view August 2022 Release Notes.